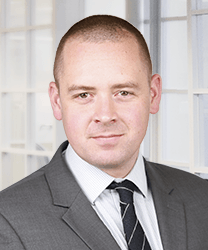 Robert Driscoll, PH.D.
Senior Vice President, Equity Research

AREA OF FOCUS

Biotechnology
---
ANALYST BIOGRAPHY
Robert Driscoll, Ph.D., has over a decade in research and analytics in the life sciences sector – specifically in the area of oncology and more recently in the areas of infectious disease. He is a molecular biologist who received his Ph.D. from the University of Cambridge, and spent six additional years working in the lab at Stanford. He is particularly interested in the development and causes of cancer, as well as the expanding world of immuno-oncology. Since joining Wedbush in 2014, Robert has been covering a number of cutting-edge companies that include Srvinas (ARVN), Kura Oncology (KURA), Arcus Biosciences (RCUS), and IGM Biosciences (IGMS).
Robert received his Bachelor's degree in Biochemistry from the University of Leeds, and his Ph.D. in Cellular and Molecular Biology from the University of Cambridge. He also completed a postdoctoral fellowship at Stanford University.
ANALYST EDGE
Robert's Edge: His biochemistry, cellular and molecular biology background allows for Robert to decipher the intricacies of the science behind biopharmaceuticals. It is this understanding that gives him insight into how biotech companies are working to extend the durability and breadth of patient responses to immuno-oncology treatments. He is also adept at connecting the dots between the novel scientific research to effective targeted therapies in development.
COMPANIES UNDER COVERAGE
Adicet Bio, Inc. (ACET)
Alpine Immune Sciences (ALPN)
Arcus Biosciences Inc. (RCUS)
Arvinas Inc (ARVN)
Atreca, Inc. (BCEL)
Black Diamond Therapeutics, Inc. (BDTX)
Cidara Therapeutics (CDTX)
Compass Therapeutics (CMPX)
Cyteir Therapeutics Inc (CYT)
CytomX Therapeutics (CTMX)
Day One Biopharmaceuticals Inc (DAWN)
Elevation Oncology Inc (ELEV)
Entasis Therapeutics (ETTX)
Foghorn Therapeutics (FHTX)
Geron Corp (GERN)
Ideaya Biosciences (IDYA)
IGM Biosciences, Inc. (IGMS)
Imago Biosciences, Inc.
Janux Therapeutics (JANX)
Kura Oncology (KURA)
Omega Therapeutics Inc (OMGA)
Replimune Group Inc (REPL)
Surface Oncology, Inc. (SURF)
Tango Therapeutics, Inc (TNGX)
Zentalis Pharmaceuticals, Inc. (ZNTL)